040. Ovila se bela loza oko 'rastića
Dialect: D
Topic: From Cradle to Grave
Reference: MZA-VT-AV-4.001B (05.11–06.22)
Title or Incipit: pesma: Ovila se bela loza oko 'rastića ["White grapes curled up around a small oak tree "]
Locality: Lakócsa/Lukovišće
Year: 1953
Recorded by: László K. Kovács
Announcement: The dance around the table comes, they dance with singing.

Comment: Sung by women in two parts, to the bass. – In half-cadences a short second dissonance is present, created when one of the voices in unison moves lower for a major second, to hypofinalis. This kind of second dissonance could be a remnant of old two-part vocal tradition (probably of heterophonic texture) that the inhabitants of this region could have brought from their native regions of Dinaric cultural zone. This assumption finds support in the fact that this short-term descent to hypofinalis has a role of time signal for joint start of the following melodic phrase, just as it has been kept up to nowadays in live practices of old rural singing in different nations and ethnic groups in Bosnia and Herzegovina, Serbia, Croatia and Montenegro (but also on wider Dinaric and Balkan area: in Greece, Albania, North Macedonia, Bulgaria).
The transcription has been published in the Collection (nr. 119).
NOTE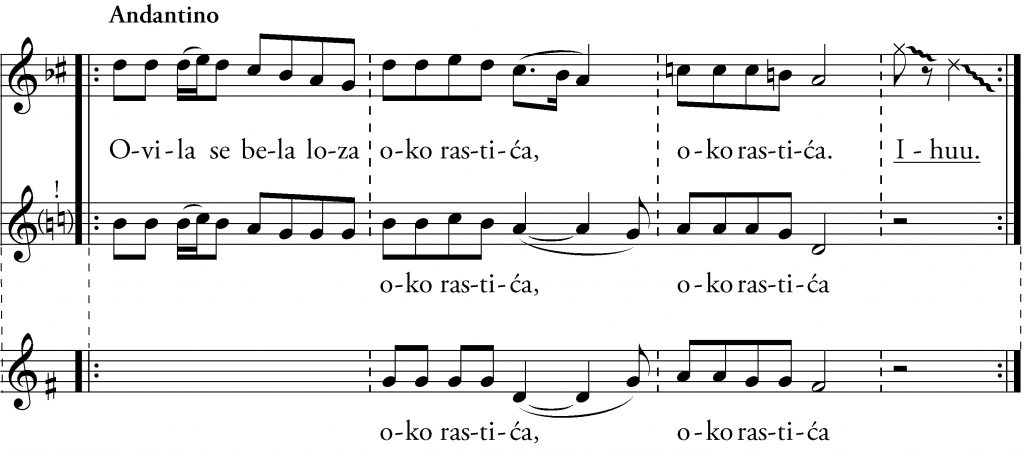 LYRICS
Two-three: Ovila se bela loza oko rastića,
oko rastića.
Everybody: Ovila se bela loza oko rastića,
oko rastića.
Ovila se bela loza oko rastića,
nije ono bela loza oko rastića,
već je ono lepa Mara oko momčića.