108. Diko moja, tvoje crno oko
Dialect: D
Theme: Instrumental and instrumental-sung music
Reference: MZA-VT-AV-4.050B_05.10–08.13
Title or incipit: Diko moja, tvoje crno oko [Oh, my beloved, my black eye]
Locality: Felsőszentmárton (Martinci)
Played by: "Kovačevićka" (the wife of Steva Kovačević), folk choir and tambura orchestra (and some male voices)
Year: unknown

Comment: Transcription published in the Collection (nr. 241) refers to performance in 1956. – Lyric, love song. Structurally, to a certain extent melodically, similar to recording 106. from this group. The structure is strophical (quatrains with crossed rhyme), and only in the last verse the second the couplet is repeated, which is pointed out by arrangement – instrumental version of (half)strophe as interludiums. Singing is in traditional two-part, marked by third-relation of parts, with cadencing in unison, in third, or, possibly, in major chord (it can not be distinguished clearly because of sounding of the orchestra).
NOTE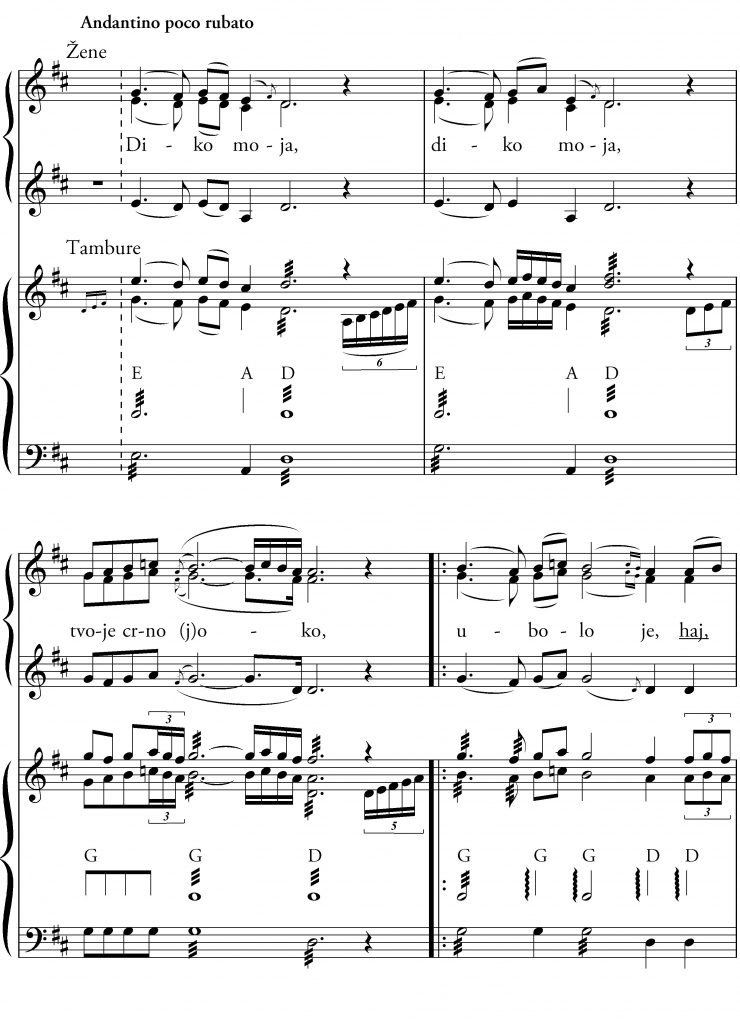 LYRICS
Diko moja, diko moja,
tvoje crno (j)oko,
ubolo je, haj, zlato moje,
u mene duboko,
ubolo je, haj, zlato moje,
u mene duboko.

Kad pogledam, okolo se plavi,
uvek si mi ti, dragi, u glavi.
Hajde, diko, hajde, moje lane,
zarad tebe idem na venčanje.