021. Slatka, mila majko moja
Dialect: D
Topic: From Cradle to Grave
Code: MZA-VT-AV-4.098 (20.15–22.00)
Incipit: Slatka, mila majko moja. [Oh, sweet, dear mother of mine]
Locality: Katymár/Kaćmar
Lamented by Petrona Petreš (63)
Year. 20. 2. 1971
Collector: Tihamér Vujicsics

Comment: Lament (of a daughter for her mother).
A transcription was published in the Collection (nr. 120).
NOTE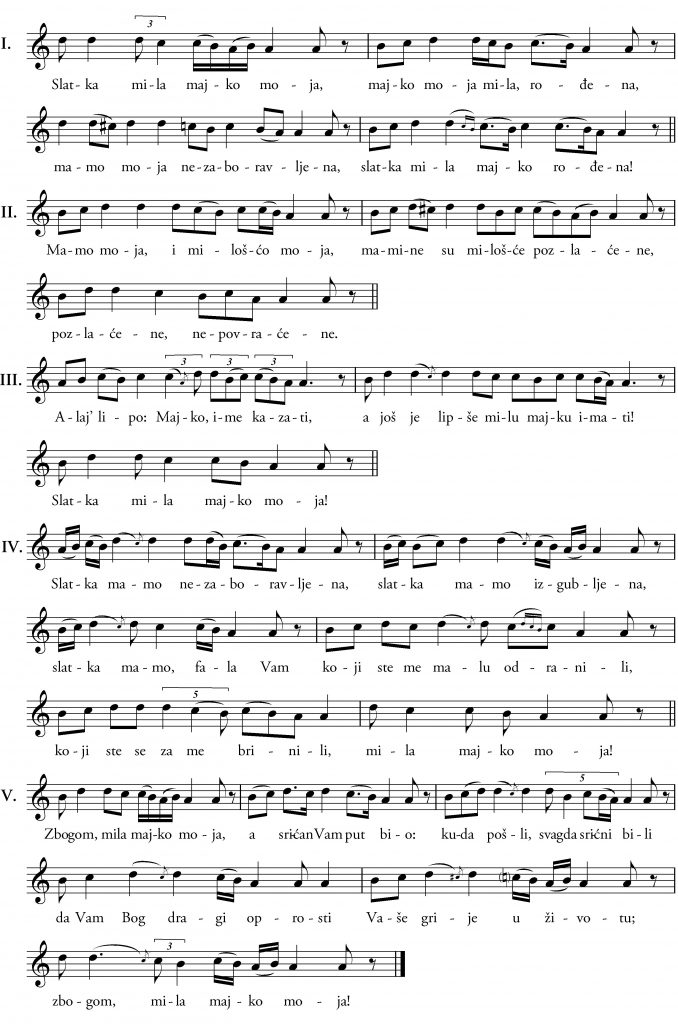 LYRICS
Slatka mila majko moja,
majko moja rođena,
mamo moja nezaboravljena,
slatka mila majko rođena!
Mamo moja, i milošćo moja,
mamine su milošće pozlaćene
pozlaćene, nepovraćene.
Slatka mamo nezaboravljena,
slatka mamo izgubljena,
slatka mamo, fala Vam
koji ste me malu odranili,
koji ste se za mene brinili,
mila majko/mamo moja!
Zbogom, mila majko moja,
a srićan Vam put bio:
kuda pošli, svagda srićni bili
da Vam Bog dragi oprosti
Vaše grije u životu;
zbogom, mila majko moja!