022. Ajoj, mati moja mila
Dialect: D
Topic: From Cradle to Grave
Reference: MZA-VT-AV-4.104 (31.05–33.33)
Incipit: Ajoj, mati moja mila [Oh, my dear mother]
Locality: Magyarcsanád/Čanad
Lamented by Marika Jenovac (60)
Year: 1959
Collector: Tihamér Vujicsics
Transcription: Tihamér Vujicsics

Comment: A lament (of a daughter for her mother). On the recording there is clearly noticeable weeping and sobbing in between verses, which Vujičić signified in his manuscript lyrics transcription (see Figure 29), but which are missing from the published melodic transcription.
A transcription was published in the Collection (nr. 121).
NOTE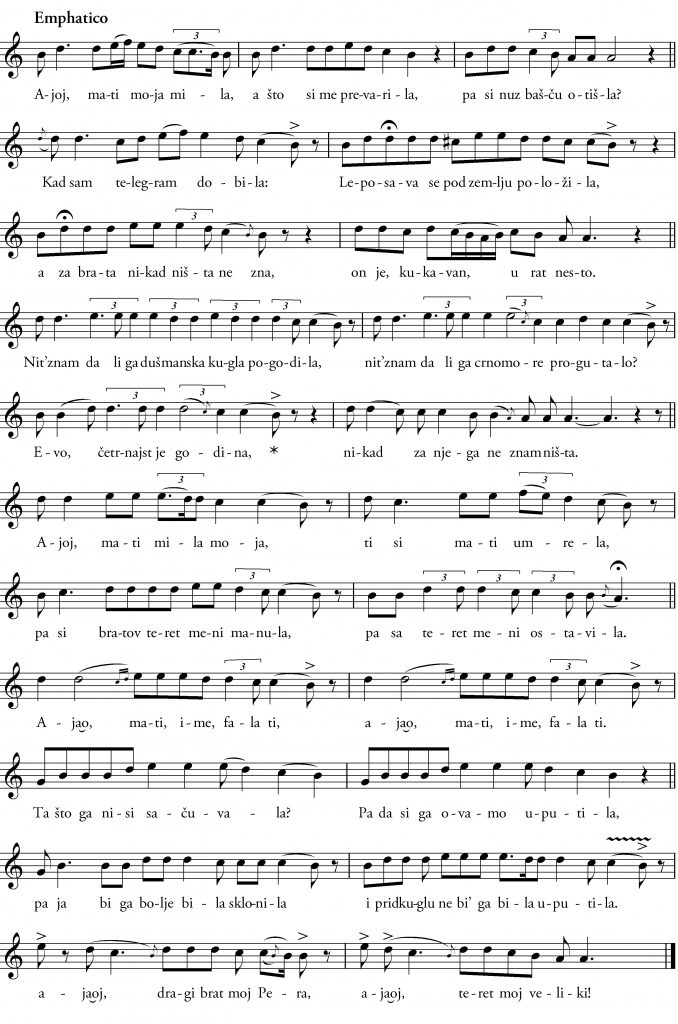 LYRICS
Ajoj, mati moja mila [sír]
a što si me prevarila,
pa si nuz bašču otišla?Kad sam telegram dobila:
Leposava se pod zemlju položila, [sír]
a za brata nikad ništa ne zna,
on je, kukavan, u rat nest'o. [sír]
Nit' znam da li ga dušmanska kugla pogodila,
nit' znam da li ga crno more progutalo? [sír]
Evo, četrnajst je godina, nikad za njega ne znam ništa. [sír]
Ajao, mati, ime, fala ti,
ajao, mati, ime, fala ti.
Ta što ga nisi sačuvala?
Pa da si ga ovamo uputila,
pa ja bi ga bolje bila sklonila
i prid kuglu ne bi' ga bila uputila.
Ajaoj, dragi brat moj Pera,
ajaoj, teret moj veliki!
MANUSCRIPT