125. Oj, ti seko, preko puta
Dialect: D
Theme: Town songs, songs by well-known or unknown authors
Reference: MZA-VT-AV-4.002B_03.16–04.20
Title or incipit: Oj, ti seko, preko puta [Oh, you girl, standing oppositely from me]
Locality: Battonya/Batanja
Sung by: Choir of male church singers of Serb Orthodox Parish in Battonya
Year: 13. 7. 1958

Comment: Song is sung in two- and three-part texture, in manner to the bass. Transcription of the song was published in the Collection (nr. 195).
NOTE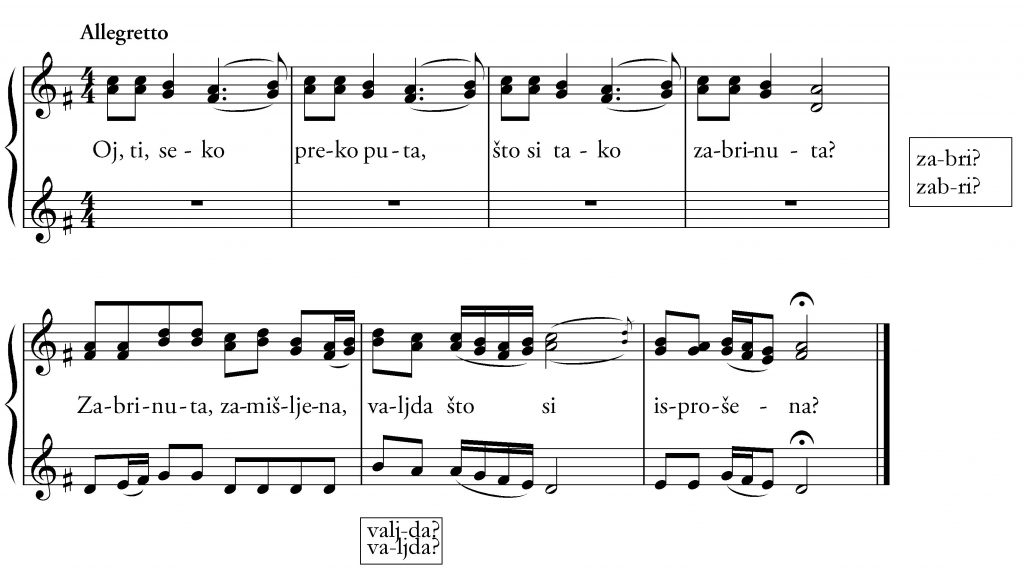 LYRICS
Ој, ti, seko ргеко puta,
što si tako zabrinuta?
Zabrinuta, zamišljena,
valjda što si isprošena?
Ne plaši se, ne straši se,
svake brige okani se.
Pa poskoči, malo cupni,
a nožicom malo lupni.
Braca će te pohvaliti,
pred svatovi izjaviti:
da si lepa, da si mila,
da si moja draga bila.
Da si moja draga bila,
mene mlada prevarila,
u drugog se zaljubila,
pa me onda ostavila.