129. Kaži mi, kaži, kako da te zovem
Dialect: D
Theme: Town songs, songs by well-known or unknown authors
Reference: MZA-VT-AV-4.050B_19.26–21.03
Title or incipit: Kaži mi, kaži, kako da te zovem [Tell me, oh, tell me, how should I call you]
Locality: Battonya/Batanja
Sung by brothers Aleksandar (43) and Nenad Rockov (38)
Year: 1960

Comment: It was recorded in Budakalász (Kalaz). – Singers are experienced and respected church chanters and singers of traditional songs. This song is sung upon the motives of a poem with he same title by Jovan Jovanović Zmaj, and on the melody that belongs to the idiom of Serbian vocal tradition, sung in the manner to the bass. Exceptional melodics, the use of characteristic ornaments in leading and in accompanying part, dynamic nuances and gradation, rhythmic and agogic accents in service of the expression, alternative breathing that enables the continual flow of musical and semantic units, make this example one of the most remarkable, anthological examples of Serbian town vocal tradition, not only in Hungary, but also in wider sense. Notation of the song is published in the Collection (nr. 302).
NOTE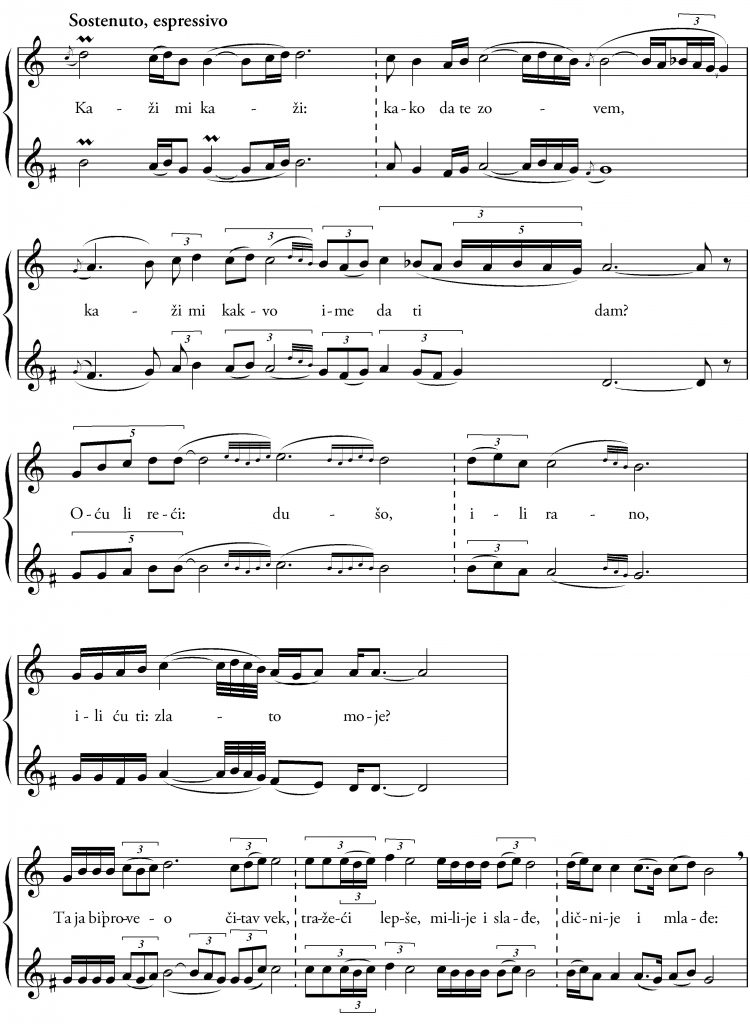 LYRICS
Kaži mi, kaži, kako da te zovem,
kaži mi kakvo ime da ti dam?
'Oću li reći: dušo ili rano,
ili ću ti: zlato moje?

Ta ja bi' proveo čitav vek,
tražeći lepše, milije i slađe,
dičnije i mlađe;
kaži mi: kakvo ime da ti dam?
Kaži mi: kakvo ime da ti dam?