097. Sviraj, Pavo, nemoj zabadava
Dialect: D
Theme: Refrains, bećarci, shortsongs, potrkušice, šalajke, humorous songs, counting songs, songs from the tavern, songs with the dance
Reference: MZA-VT-AV-4.080A (00.48–01.55)
Incipit: Sviraj, Pavo, nemoj zabadava [Play, Pavo, do not play for free]
Locality: Alsószentmárton/Semartin
Performed by Pavo Mesarović, bagpiper
Year: 1954
Collector: Tihamér Vujicsics
Comment: Transcription of the song under the title Sviraj, Pavo published in the Collection (nr. 261) refers to performance of variant Sjeo pet'o na granu, pa vide [A rooster has sat on the branch and he has seen], performed by the same player together with Anka Jozin. It is for sure about a set of three pipes instrument, which had a hand tool for blowing the air into the skinful enabling the bagpiper to play and sing at the same time. While performing dance music, they often sang ten-syllable rhymed couplets of humorus contents, as incentive to dancers, which is illustrated exactly by this recording. Similar examples recorded from the other singers and tellers testify about positive reception and topicality of this musical folklore genre in time of field research done by Tihomir Vujičić.
NOTE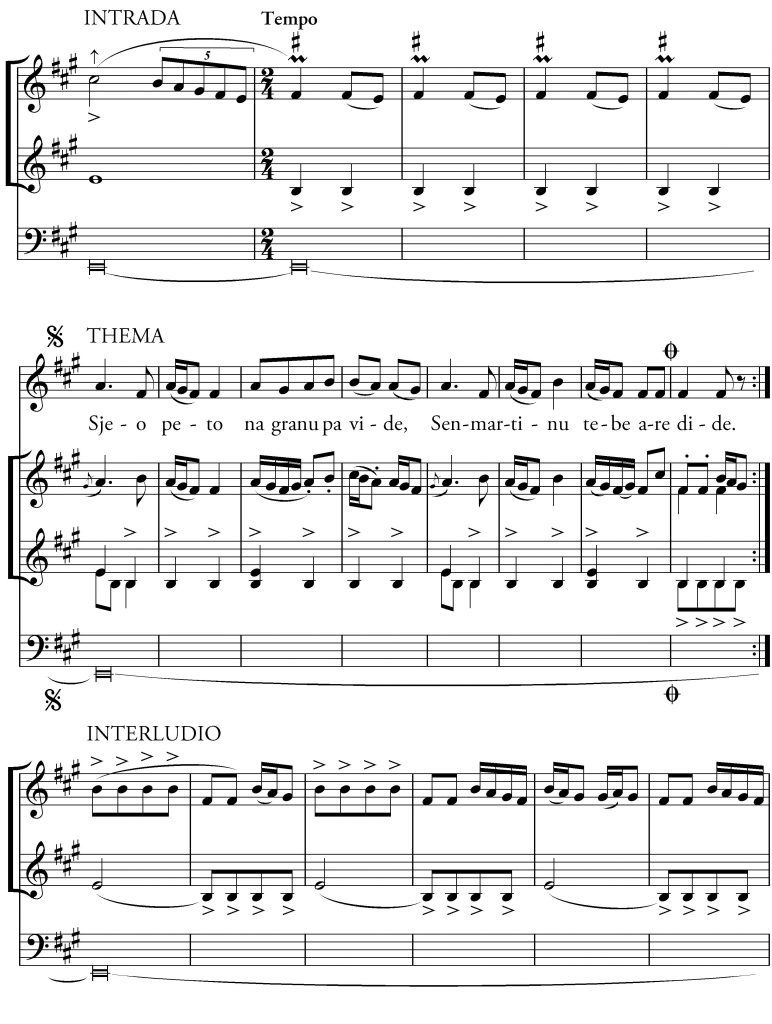 LYRICS
Sjeo pet'o na granu pa vide,
Senmartinu, tebe are dide.
Svaki veli da sam šećer beli,
da sam šećer, mene bi pojeli.
Da sam šećer u kavi bi bila,
pa bi mene sva gospoda pila.