066. Devojka se suncu protivila
Dialect: D
Theme: Epic songs, narrative songs, romances, ballads
Reference: MZA-VT-AV-4.100 (46.19–47.30)
Incipit: Devojka se suncu protivila [A girl opposed the Sun]
Locality: Szigetcsép/Čip (The recording was made in Pestszentlőrinc)
Sung by Nerandža Todorović (b. in Szigetcsép (Čip), 1904)
Year: 1973
Collector: Tihamér Vujicsics
Transcription: Tihamér Vujicsics

Comment: Narrative song, in which the same melodic model is used as in previous numbers (064, 065).
Transcription of the song is published in the Collection (nr. 159).
NOTE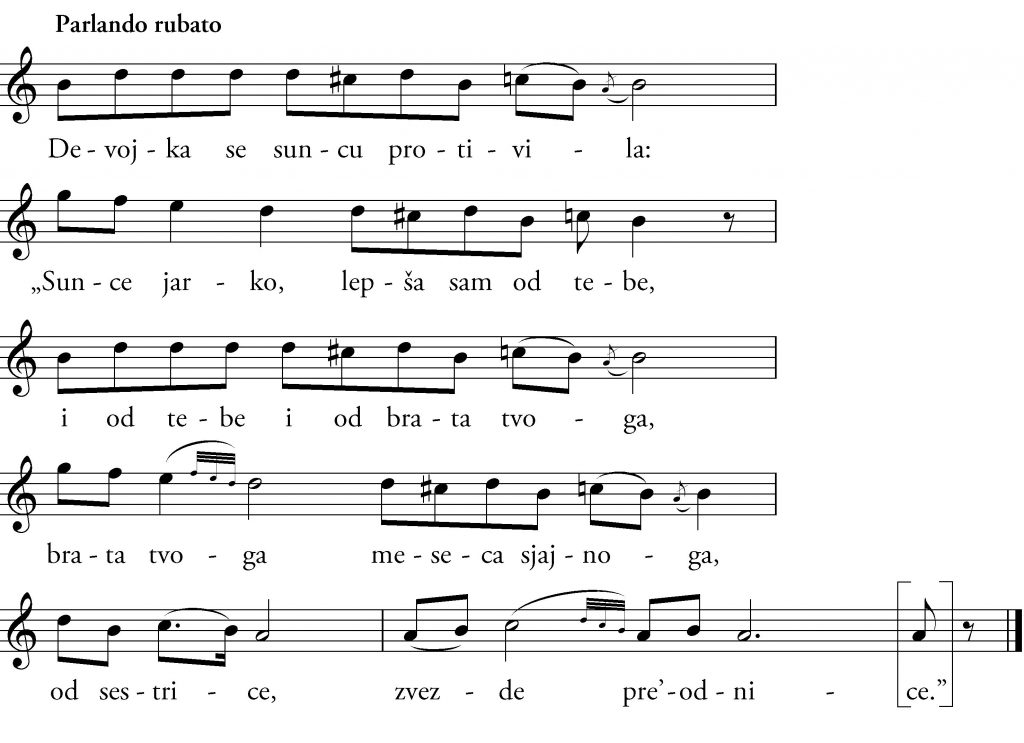 LYRICS
Devojka se Suncu protivila:
– Sunce jarko, lepša sam od tebe,
i od tebe i od brata tvoga,
brata tvoga, Meseca sjajnoga,
od sestrice, zvezde pre'odnice.
Sunce jarko Bogu tužbu dalo:
– Što ću, Bože, s prokletom devojkom?
A Bog Suncu tako govorio:
– Lako ćemo s prokletom devojkom.
Ti zasijaj, preplani joj lice,
a ja ću joj (h)udu sreću dati:
'udu sreću, sve strane devere,
zlu svekrvu, a svekra gorega,
neka znade kom' se protivila.
LYRICS