006. Ne mrem ftrči, niti pak doseči
Dialect: B
Reference: MZA-VT-AV-4.026A (00.00–02.23)
Text incipit: Ne mrem ftrči, niti pak doseči [I can't tear, neither reach]
Locality: Tótszentmárton/Sumarton
Sung by Rozalija Tkalec
Year: 1951
Collector: János Manga
Transcription: Tihamér Vujicsics
Comment: The set of recordings made by János Manga and transcribed by Tihomir Vujičić reflect the special musical idiom present in Pomurje (and neighboring Međumurje in Croatia). The melodies in pentatonic scale show a high level of similarity with Hungarian traditional songs, but also some characteristics of the Croatian tradition, which was pointed out by Tihomir Vujičić (see the number Zbogom pole, gore… in the following order of melodies).
Transcription of the song according to several singing was published in the Collection (nr. 29), with somewhat different lyrics.
Music note (variant)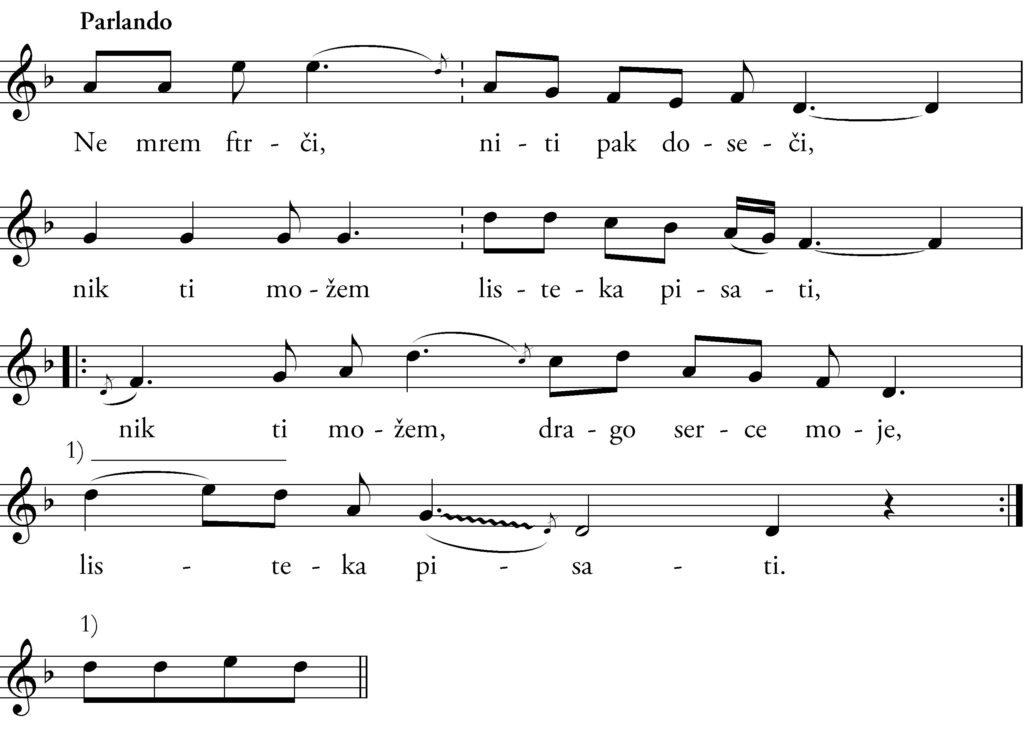 Lyrics
Ne mrem ftrči, niti pak doseči,
nik ti možem listeka pisati,
nik ti možem, drago serce moje,
listeka pisati.
O, nevkretne one vure bile
koje ruke lani so grlile,
preblažene tvoje modre joči
ke mi sviete v temnej noči;
Temne noči so me sprevađale
joči so mi svetlo zovdavale,
a ti si me rada dočekala
pa mi slatku lubav dala.
Kajgod bodo drugi govorili,
ne bodo nas širom razdružili,
ali makar bodeš n' onkraj svieta,
lubila te bom do vieka.